Glass Pickaxe
Description
Fragile Pickaxe cut from Glass
Statistics

Rarity:

Rare

Obtained from:

Desert Biome, Chests

Upgrade Cost:

Damage
Scaled
Scaled
Powers

- Shatter -
Burst Pickaxe into shards rewarding Glass blocks
The Glass Pickaxe is the sixth Pickaxe available in PickCrafter. It can be unlocked in the Desert Biome or be found in Chests.
Pickaxe Ability
[
]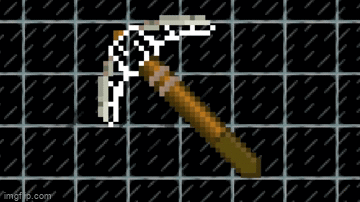 Before activating, pickaxe begins to glow with a purple light. Then smoke appears while glowing more. During pickaxe ability, it begins to shake the screen, and after a couple of seconds, the head of the pickaxe explodes, thereby shattering into blocks of glass and gives 50 glass to inventory. After another couple of seconds, pickaxe is restored.
Levels
[
]
There are a total of 9 Levels available for the Glass Pickaxe.
Trivia
[
]
In v1, the Glass Pickaxe permanently broke whenever you swung your device to do a 'True Pick'. After breaking it, it would disappear from your Pickaxe Inventory and you could then repurchase the pickaxe again in the Pickaxe Store.
See also
[
]