Ice Pickaxe
Description
Pickaxe carved from Ice
Statistics

Rarity:

Common

Obtained from:

Tundra Biome

Upgrade Cost:

Damage
6
2.5%
Powers

- On Fire -
Break blocks with one strike
The Ice Pickaxe is the eighth Pickaxe in PickCrafter. It can be unlocked in the Tundra Biome.
Pickaxe Ability
[
]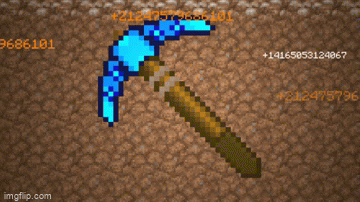 Before activating, pickaxe begins to glow with a purple light. Then smoke appears while glowing more. During pickaxe ability, it starts shaking the screen and, also, snowing. The actual pickaxe ability is On Fire (Instant Block Break). Also, Pickaxe Ability grants the player a Status Effect called Cryo which lasts for 5 minutes.
Levels
[
]
There are a total of 9 Levels available for the Ice Pickaxe.
See also
[
]